I couldn't pay my Duke Energy bill with these. What would they care?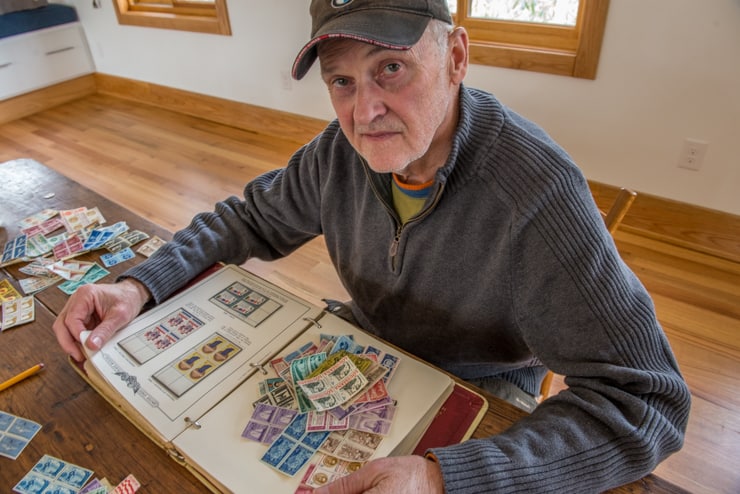 Deconstructing a childhood stamp collection … An emotional journey to the past
When my mom and dad passed away in 2012 and 2013 respectfully, the task of "cleaning out" and "settling up" HOME in Waynesville, NC became forefront in my and my sister's lives.' My tangible personal connections to HOME changed when I moved out of the house in 1978 as a young adult to become a permanent resident of Winston-Salem, NC.
While I took on the task of settling my parents' estates, my sister took on the challenge of "mucking out" as she referred to it, everything else since she continued to live in the HOME until she could design and build her own.
In one of our "check in calls" she asked me, "what do you want me to do with your stamp collection?"
Uh, oh …. I had completely forgotten that one. So, on a visit back to Waynesville, I loaded the boxes, brought them to Winston-Salem, and stored them away until a time that I could go through them. They couldn't be worth much, I thought, even though the collection was all mint (uncancelled) stamps. They sat again in the corner of our living room.
This winter, someone wrote the Ask SAM column in the Winston-Salem Journal asking about stamp collection values and appraisals recommendations. His answer was succinct:
"It is not an investment possibility, as it was once considered to be," he said. "Very few stamps have increased in value over the years. And what increase there was, was wiped out a few years ago, when the market went into decline at the same time the antique market and stock prices went south."
This was just the permission that I needed to cannibalize the collection for the postage value only. Feeling rich, I without guilt started removing the mints stamps from their protective glassine envelopes. Then something happened. The emotional flood gates opened. I nearly drowned. There is Reuter, San Martin, Paderewski, Garabaldi (the 4c and 8c versions), Bolivar, and Mahatma Gandhi. And then there is Boy Scouts, NATO, Project Mercury, Kansas Statehood, and Range Conservation. And my favorite stamp ever of all time, John James Audubon (I bought an entire sheet).
I knew that I couldn't pay my Duke Energy bill with these. What would they care?
My intimacy with American history and with these commemorative three and four cent stamps issued between 1963 and 1980 matured. Grandmother Houck (my mother's mother) started me at the age of 13 collecting, bought me my first album, and helped me mount them precisely so they could be "preserved".
My backed-up emotions rolled over me like a California mudslide. It felt as if it were only yesterday buying those stamps, and with my own money. There was a ritual in the process, too. I bicycled to the old post office downtown (now repurposed as the Waynesville City Hall) to find Mr. J.T. Russell looming large in the stamp window, my laying out my hard-earned cash on the cold marble counter window, and exchanging for a "block of four with serial number". He was my stamp guardian; I was sure he had a special recess in his stamp drawer just for me. The relationship was that special. And another bonus, he saved all the new issue announcements which showcased the image of newly issued stamps, documented their history, and cited their date of issue. These were always thumb tacked to the lobby bulletin board right next to the wanted posters.
So …. Duke Energy will not get my stamps.
Instead, I will be using them as postage for our Christmas cards that we send to our friends this year along with the link to this story informing and reminding them where all these old beautiful quaint stamps came from.
"Merry Christmas," already.  Maybe you will be the lucky one to get my favorite stamp of all time.