Analysis of a remarkable photograph …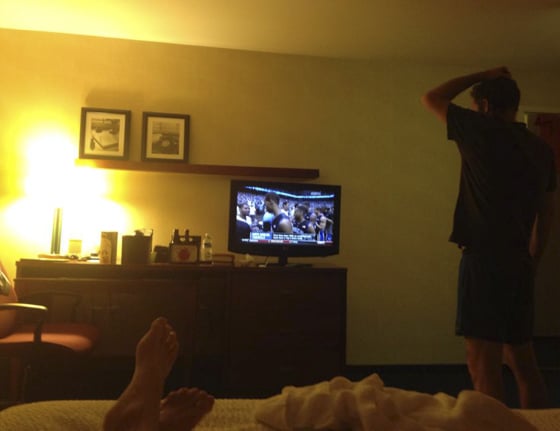 Everything is in context but this photograph is successful.   For those who have not seen it … it was taken by author Jennifer Pharr Davis with her phone on the occasion of the UNC  Tarheels 74 to 66 win over Duke on February 20, 2014.  UNC was down by 7 at the half.
It's success is  the captured moment of  Brew's "hold on to my hat" gesture, the confirmation by the image on the TV screen, the inclusive foreground  of Jennifer's famous feet (Appalachian Trail record holder and National Geographic Adventurer of the Year) the glimpse into their lives by the remaining beers on the dresser (husband Brew likes his brews), and the mystery that their cherished daughter Charley is presumably close-by but out of frame.
Moment, gesture, foreground, life-meaning, and mystery have touched hearts and changed your friends and others from having seen it.
Thank you for sharing, Jennifer.
HMM